For everyone who calls Ontario their home, grilled chicken is not just food – it's a way of life. If you're looking for a healthy meal that's also delicious and filling, look no further than the grilled chicken menu. It's a popular choice among chicken lovers, and the smoky flavor that comes from the grill adds so much more depth to your meat. That's why we're so proud to be serving the authentic South African flame-grilled chicken recipe at Galito's. 
Galito's chicken is 100% halal and of premium quality, and we're happy to serve exclusively 100% halal certified meat at all of our restaurants. In doing so, we bring together different communities with a premium South-African style food experience. Our chicken is also completely natural and fresh, never frozen with any artificial hormones or antibiotics. The marinade is made from fresh, wholesome ingredients and infused in chicken to give you that burst of flavor with every bite. We offer nutritious sides of grilled corn, mixed green, Piri roasted potatoes, and of course, fries. You have to taste it to believe it!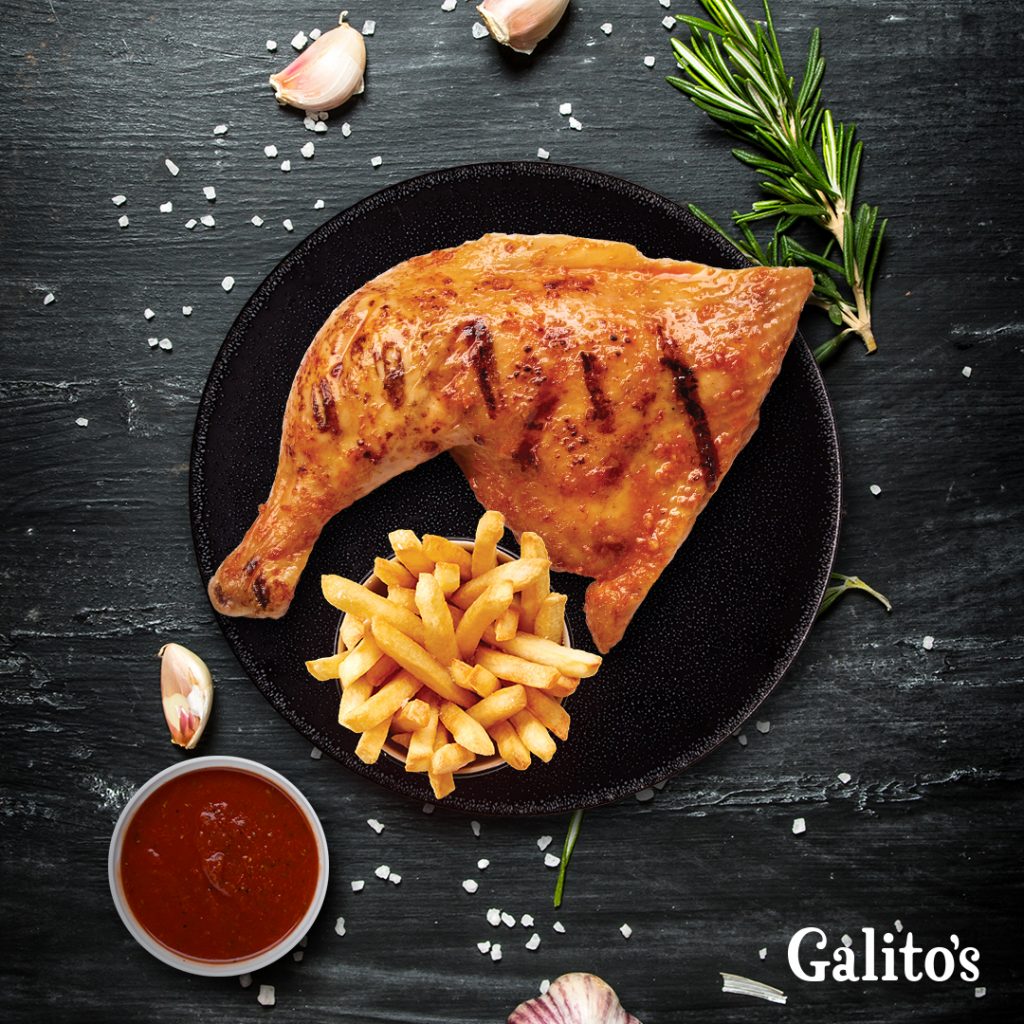 Is our halal chicken
really
halal?
Is our "halal" chicken really halal, though? Absolutely! 
Our chicken is prepared in accordance with Islamic dietary laws, and slaughtered with proper Islamic animal slaughter protocols. They're outsourced from farms and establishments where animals are treated in a halal or permissible way prior to slaughter. We understand that these laws and procedures come from genuine respect and sanctity of the animal's life – from proper treatment in life all the way to slaughter, to ensure minimum discomfort and suffering. 
Where can you find us?
With now more than a hundred restaurants across several countries, our passion remains the same: serving world-class flame-grilled chicken to our valuable customers. 
Galito's flame grilled chicken outlets are located all over Ontario, including Toronto, Waterloo, Mississauga, Cambridge, Brampton, etc. Find our nearest restaurant for the ultimate halal grilled chicken dining experience. 
We also serve a more classic, kid-friendly menu with burgers and wraps so you can come with your whole family. For those of you who choose to avoid meat-heavy diets, we have vegetarian options such as veggie strips and rice, veggie burgers, and veggie pitas. 
So, the next time you're in the mood for South-Africa's authentic grilled chicken, drop by one of our outlets for a healthy, delicious meal. Along with our 100% Flame-Grilled Chicken, we welcome guests all over Canada with true hospitality, warmth and a promise of great memories made over great meals.