Attention all Brampton foodies! We know that you have been waiting for this special day for a while now, and we're thrilled to announce that the wait is finally over! 
Get ready to surrender to the juiciest, tenderest, and perfectly spiced Piri Piri flame-grilled chicken! Galito's makes its grand entrance into the city and is all set to open its doors at McVean & Castlemore in Brampton. 
The magic of piri piri
We bring authentic Portuguese-style flame-grilled chicken to your table with carefully crafted recipes and premium-quality ingredients. Our chicken is marinated in a secret blend of herbs and spices for 24 hours before being grilled to perfection. The chicken is served on or off the bone, and you can choose from a variety of cuts, including a quarter chicken, a half chicken, or a full chicken. 
One of the most popular dishes is the whole piri chicken, a succulent double chicken breast with crispy skin that is served with a bed of flavorful piri-fect rice as an amazing side. And speaking of sides, you get to choose a variety of small and large sides with our platters, and there's plenty to go around. 
For those who love wraps (who doesn't?!), Galito's offers juicy chicken, crunchy veggies, creamy sauces wrapped in warm tortillas, and a variety of surprise flavors. Alternatively, you can opt for a veggie option in your choice of piri-piri flavour. Our wraps are packed with fresh veggies, and grilled chicken and are perfect for on-the-go cravings.
That's not all
We have a deal to share! To celebrate our new branch in Brampton, we have prepared an irresistible deal just for you! This limited-time deal comes with 10 flame-roasted piri piri chicken wings and 1 medium cheese pizza with marinara sauce and gooey mozzarella cheese, all for the incredible price of just $29.99! Now that's what you call a FEAST!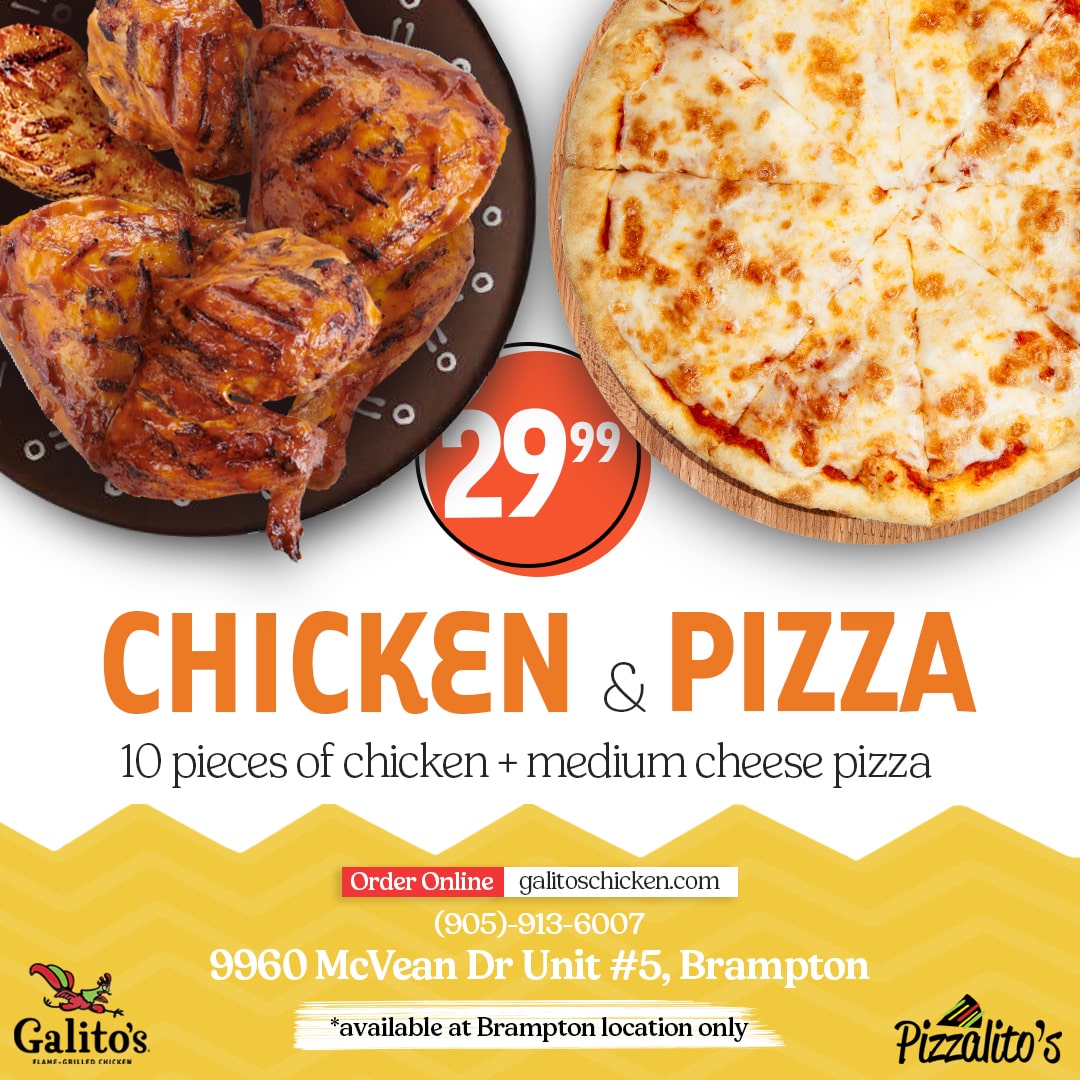 Besides our cheesy margarita, we've got the Hawaiian Pizza with ham, bacon, and pineapple or Meat Lovers with ham, bacon, ground beef, and pepperoni. You can even go for our veggie Mediterranean Pizza with toppings like spinach, sun-dried tomatoes, black olives, and feta cheese. Or a twist on the more classic Pepperoni Pizza with extra toppings like green pepper, fresh mushrooms, and olives. And more!
Don't miss out on…
Our exclusive opening deal. Act fast, it's a limited-time offer! 
The countdown has begun. Sizzling excitement is in the air. So come on out and help us celebrate our newly opened location at McVean & Castlemore. See you there!
9960 McVean Dr Unit #5, Brampton
*This offer is available at the Brampton location only.